***Some of the islands and names are both real and fake***Also, I realize this rp already exists on other sites, not copying just wanted everyone to be able to do it***
This is a world where the richest man is the one who controls the most gold and men seek to take what they feel belongs to them. Here in this part of the ocean there is dark curses, magic, match ups against Poseidon, and much more. You all understand what a pirate rp is. I placed this in mature roleplay because theres alot that can go on that is vital to the rp but not exactly pg. You must be human. You can be anything from the bar keeper on Fin Isle to a British navy man. I recommend you end up on the ocean in some way. Do not use any character which has been featured in a main rp or movie.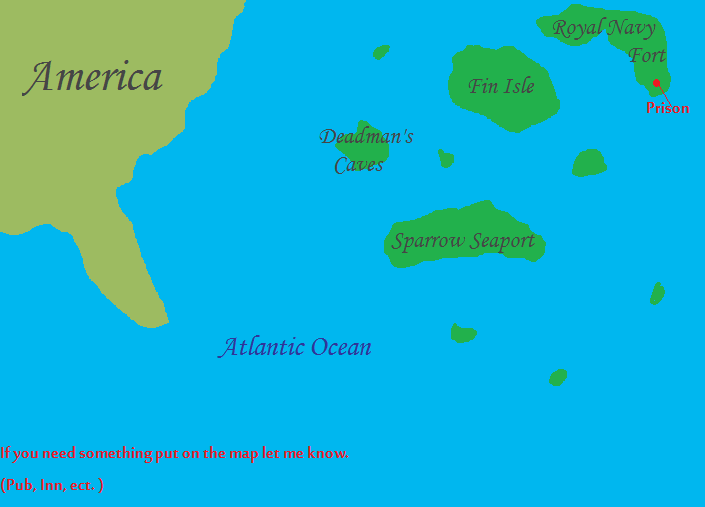 Form:
Name:
Age:
Appearance:
Job/ Place in life:
Pirate or Navy:
Personality: (3-5 sentences)
*Optional* Background:
Choice Weapon(s):
ships name/ Other:
Mine:
Name: Riley Tigee
Age: 20
Appearance: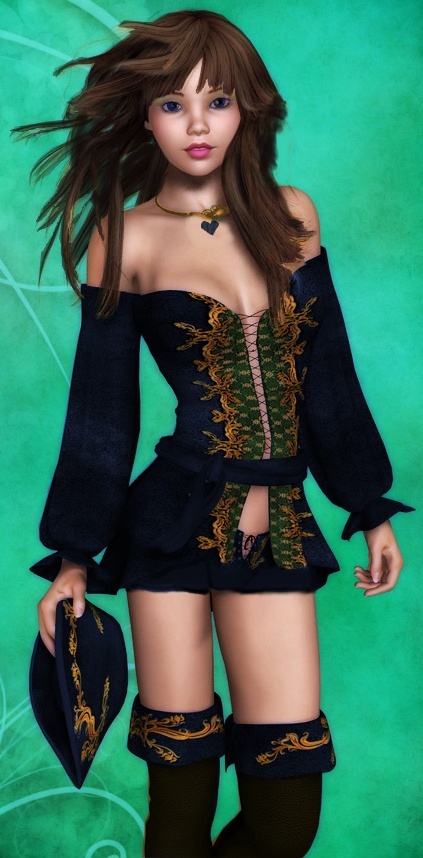 Job: Captain's daughter/ ship's medic
Pirate
Personality: Riley is cunning, intelligent, and a smart ass to start. She's gentle to the injured and can fight like the best of them. Growing up around men she knows she's one they watch and uses that to her advantage, though she wouldn't take one for her own.
Background: Riley has been living on the sea her entire life. Her mother, being no more than a pirate deckman's layover couldn't begin to care for her. Her father, an infamous pirate named Captain Tigee returned from sea to kidnap her under the cover of night. He raised her on his ship in the ways of the land and tide from the time she was two. Hard on the surface but soft in the center he loves her dearly despite having no knowledge of how to raise her right. She learned from books.
Choice Weapons: sword, pistol
Ship: The Sunset
Admin




Posts

: 261


Join date

: 2011-05-19


Age

: 27


Location

: New Jersey



Name: Capt. Blackness
Age:27
Appearance: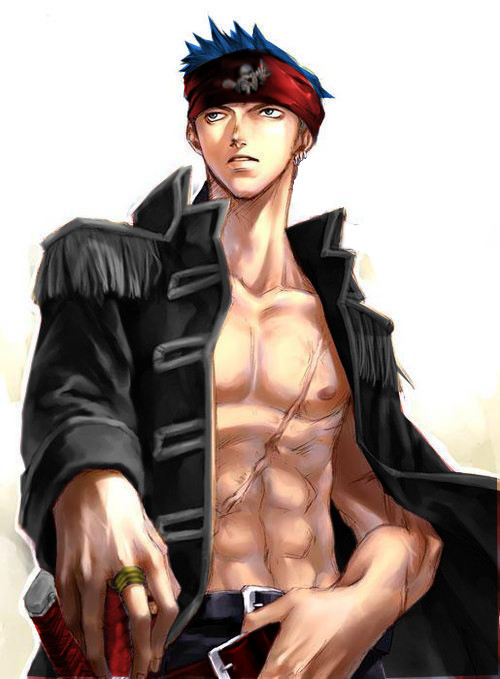 Job/ Place in life: Captain of the DarkFox
Pirate or Navy: Pirate
History: Ace had a rough childhood, his father, Blackbeard, was never home, and was always "The most famous pirate" so, at 18, he decided he was going to find his father, and show him that he was an even better pirate.
Choice Weapon(s): Three swords, one for each hand, and one that he controls with his mouth. Hand to hand combat, and two pistols and daggers.
ships name/ Other: Dark Fox



Posts

: 124


Join date

: 2011-05-20


Age

: 24


Location

: Pennyslvania



Name: Captain Nemo
Age: 30
Appearance:
Job/ Place in life: Captain
Pirate or Navy: Pirate
Personality: (3-5 sentences): Good hearty and sarcastic, he is better in improvision, his crew knows this and accepts the fact he does not plan ahead of time. When dealing punishment he can have a cruel nature but he will simply laugh about it while he kills you.
*Optional* Background:
Choice Weapon(s): Two cutlasses, pistol, and a long range rifle
Ship's name: Siren's Call
Moderators




Posts

: 210


Join date

: 2011-05-19


Age

: 26



Name:Rich Masters
Age:18
Appearance:
Job/ Place in life:im a pirate whose without a crew
Pirate or Navy:pirate of course
Personality: (3-5 sentences)I'm alsways looking for trouble and a good time.I'm a bit of a man whore and i enjoy killing and stabbing(wink wink nudge nudge).Also i love treasure .
*Optional* Background:
Choice Weapon(s): My double edged cutlass and two pistols and a blunderbuss.
ships name/ Other:My ship is the aphrodite's song.its a pleasure boat. asically a whore house on the water.



Posts

: 4


Join date

: 2012-08-09


Location

: somewhere



Time for a change? I think yes
Name: Captain Bane the Conquerer
Age: 50
Appearance:
Job/ Place in life: Captain of The Red Death and leader if The Band of Thieves (his crew)
Pirate or Navy: Pirate
Personality: Ruthless and cunning, his blackened heart feels no emotion or pity for those who fall to his blade. He will stop at nothing to pillage and plunder his way to the top, with a choice exception to never harm an orphan. A master tacticioneer, entire governments have fallen prey to his wrath. He seeks to leave his legacy on the world; by controlling the waters.
On a positive note, he enjoys gambling, choice spirits, and pleasurable company at the local brothels and taverns. He wears a mask to cover his face from the deep scars of his past.
*Optional* Background: Born in the dark of the London Underground, Bane was abused and hardened in the sweatshops of London, never aware of his true origins. Until the age of 15 he had never seen the sea. One fateful day, as his master, Ravello, took a razor and carved the boy's face for trying to whore around with his wife, Bane mustered all his pent up rage into Ravello's face, beating his face inward until it was unrecognizable. In revenge for all the neglect and abuse that was his life, Bane took Ravello's rusty hooked hand and plunged it into the old man's heart, carving it out and casting it aside. Inspired, the other boys and girls of the sweatshop rebelled with Bane as the ringleader. Together, this band of teenagers overwhelmed a navy Man-O-War and soon began a career of piracy and thievery. Ashamed of the scars that now destroyed the once beautiful face, Bane donned a skull mask to hide the fact of his mortality. With the mask, he now became a symbol of invincibility.
Choice Weapon(s): A hybrid of a hanger cutlass and a rapier, two pistols, throwing knives, and a hook shaped axe made from the hook that served as his late Master's Hand
ships name/ Other: The Red Death
I hope you'd have a washed up old sea dog as part of this role play; one last time before I retire forever this year



Posts

: 12


Join date

: 2011-09-10


Age

: 24


Location

: P. Sherman, 42 Wallaby Way, Sydney





Similar topics
---
Permissions in this forum:
You
cannot
reply to topics in this forum